Everyone has totally different sleeping habits, but, for the most part, we all sleep in roughly the same positions. Do you sleep on your side, your back or your stomach? Look at the chart below and keep on reading to see what your favorite sleep position says about you!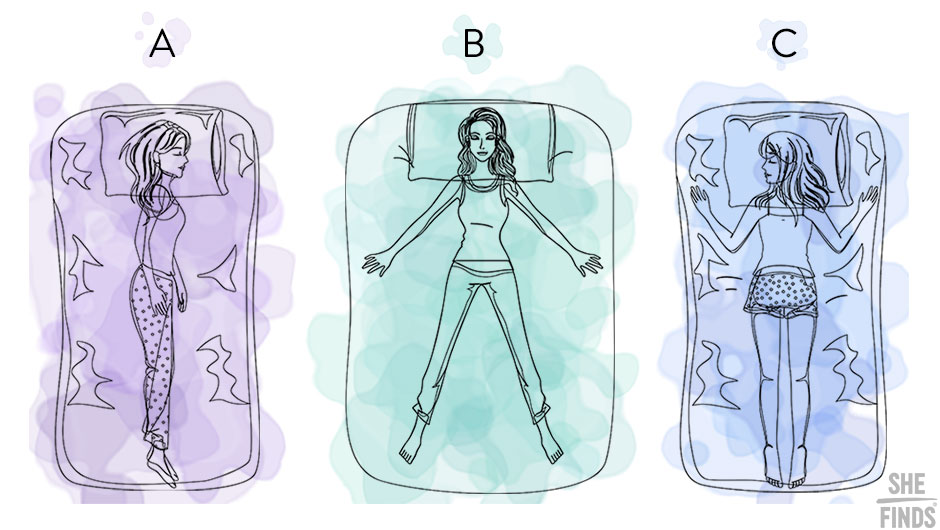 A. Side Sleeper 
You're a worrier and a quiet person, especially those who sleep curled in the fetal position. You may seem tough on the outside, but you're actually shy and sensitive on the inside. If you sleep in a log position (pictured above), you easily trust others and are very sociable. However, you also appreciate alone time, so order some takeout and start up Netflix!
RELATED: Find Out What Your Fingernail Shape Says About You
B. Back Sleeper
If you sleep on your back with your arms and legs straight, you can be a little rigid and take yourself very seriously. You set high expectations for yourself and don't like breaking from a structured plan. If you sleep on your back with your arms and legs pointed outward, like a starfish, you're open and confident. Talk about an extrovert! You love to be in the conversation and trying new things with new people.
RELATED: Find Out What Your Lipstick Shape Says About You
C. Stomach Sleeper
People who sleep on their stomachs are often referred to as "freefallers" and as the name implies, you have a very free personality. Most of the time, you're pretty much up for anything and you are quite adventurous. Although you are a free spirit, you don't like change and sometimes you may wake up feeling anxious about your tasks for the day.
Which position are you?!
Don't miss how to brew the perfect cup of coffee and why you shouldn't sleep with your cell phone!