Find Out What Your State Buys The Most Of On eBay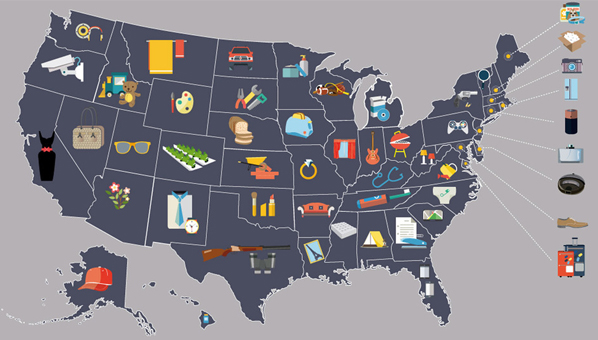 Have you ever wondered what the heck people are buying on eBay these days? Yes? Good, because the online retailer just released an infographic titled "What is your state's online shopping cart filled with?" Revelations, that's what.
Here's how it all came together. eBay did some digging to find out which items states purchased the most, the top 500 brands for each state and then narrowed them down to general categories. Next, eBay figured out what items people purchase the most in all 50 states plus our nation's capital, Washington, D.C. Mashable points out that it's pretty strange firearms are the most popular in New York, since the state has one of the strictest gun laws in the country. Other interesting tidbits include: Pennsylvanians really like video games, Hawaiians need their vitamins (secret's out!), Wyoming is full of artists and New Jersey dudes are trying to smell good (shocking!!!). Check out the infographic below to find out what your state buys the most.
And don't forget to check out: the Banana Republic Factory store is now online, Rihanna's hot pink dress and this one-in-a-million sale site
[Photo: eBay]