Find Out What Your State Googled More Than Any Other State This Year
You know how sometimes (always) you Google things and pray to the Internet gods that no one will find out what you're looking up? Well, all of your weird searches just got exposed. Using data from Google Trends, Estately put together an infographic showing what each state Googled more than any other state this year. The results? Hilarious. Who knew people in Maryland were so interested in Pharell's hat? Also, we see you Utah, looking for those fake Emma Watson nudies.
Here are some of our favorites with the best ones in bold:
CALIFORNIA: FIFA 2014 World Cup / Malaysian Airlines / Kim Kardashian / Iggy Azalea (recording artist) / Donald Sterling (former NBA owner) / Renee Zellweger (actress) / Tom Perkins (businessman) / Joe the Plumber (political plumber) / Jamie Dornan (actor) / Steve McQueen (director) / Charles Manson (criminal) / James McAvoy (actor) / Ellen Page (actress) / James Franco Instagram / How to get rid of acne? / What is BB cream? / How to minimize pores? / How to shape eyebrows? / Nexus 6 / iPad 3 / Bitcoin / Kate Middleton butt / Chia seed / Uber
MARYLAND: Pharrell Williams hat (recording artist) / Ray Rice (NFL player) / Roger Goodell (NFL Commissioner) / Chelsea Manning (US soldier) / Piers Morgan (TV host) / Paula Patton (actress) / Executive order / Bill Cosby (comedian)
MISSISSIPPI: Flappy Bird cheat / Ciara (recording artist) / Ciara baby / Ciara pregnant / Cee Lo Green (recording artist) / Robin Thicke (recording artist) / Raven-Symone (actress) / The Ultimate Warrior (pro wrestler James Brian Hellwig)
*Damn, those Mississippians really like Ciara.
NEW MEXICO:  Zombies / LG G3 phone
NEW YORK:  Philip Seymour Hoffman (actor) / Peaches Geldof (journalist) / Lauren Bacall (actress) / Terry Richardson (photographer) / Jared Leto (actor) / Macaulay Culkin (actor) / Margot Robbie (actress) / Laverne Cox (actress) / Donald Trump (self-promoter) / Drake (rapper) / Leslie Jones (comedian)  / Conchita Wurst (Austrian Eurovision winner) / "Girls" (TV series) / Samsung Galaxy S5 / How to apply foundation? / Gaza and Israel / What's a selfie?
*Really New York? "What's a selfie?" COME ON.
TEXAS:  Flappy Bird download / Johnny Manziel (NFL player) / Join I.S.I.S. / Carrie Underwood baby / How to get rid of stretch marks? / James Avery (actor) / Are zombies real? / "Teenage Mutant Ninja Turtles" (film)
*K what is up with zombies??
WEST VIRGINIA:  Maroon 5 (band) / Charles Manson (criminal) / Brad Paisley (recording artist)
WISCONSIN:  What is Tinder? / Pabst Blue Ribbon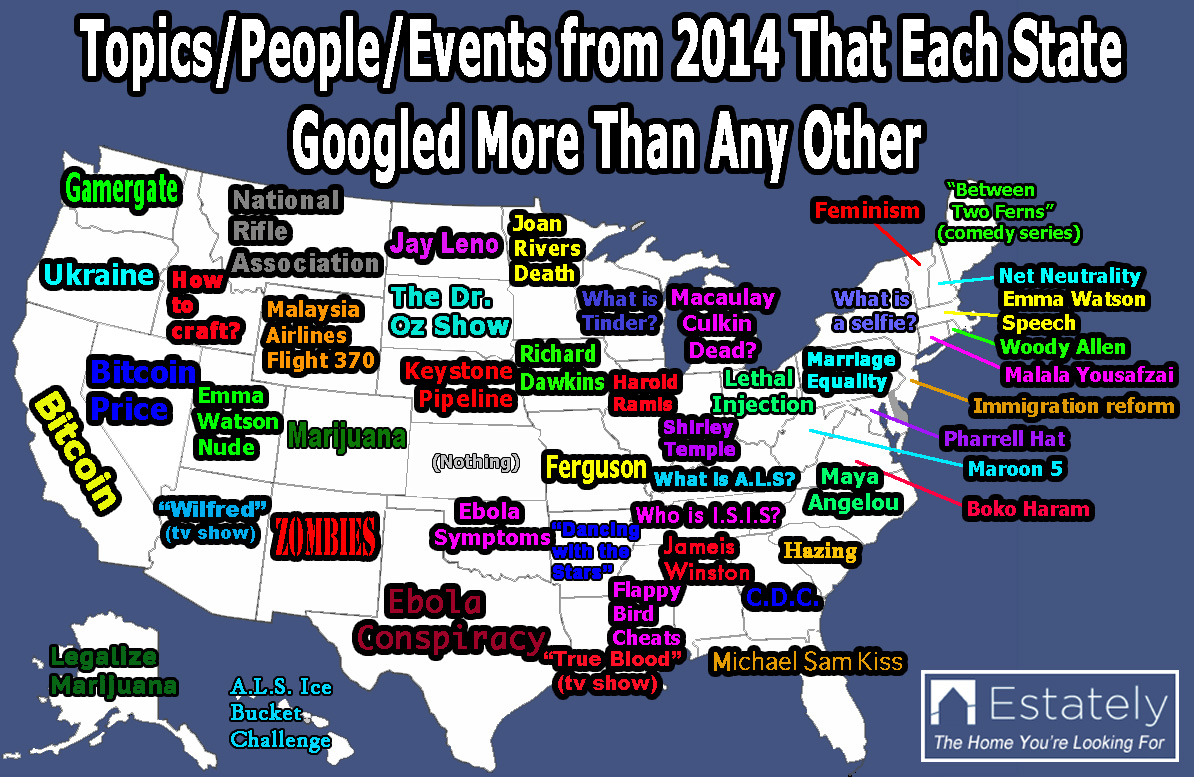 via Estately.
And don't forget to check out: Hunter's boot sale is still going on, the best viral videos of 2014 and how to get cash for gifts you don't want