The height of collaboration season always seems to coincide with New York Fashion Week, and Maison Maison Martin Margiela is jumping on the bandwagon once again, this time with Converse. This time last year, the Belgian brand had teamed up with H&M (to mixed reviews), and this year they're taking another stab at it with a line of paint-splattered sneakers for Converse.
The new line features hand-painted Jack Purcell and Chuck Taylor All Stars in 4 heritage colors from the Converse archives: red, black, navy, and a Margiela-exclusive vintage yellow. The shoes, which will be available in September, will naturally crack over time and the original color will show through the white paint. Basically, these sneakers will, like all Converse, get a little roughed up over time, but it will only make them more badass (although you will have to deal with sweeping up paint chips off your floor #smallpricetopayforcool):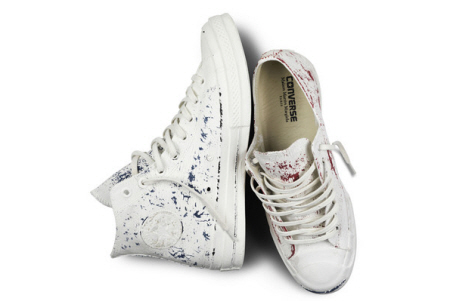 Click here to see more photos of the Converse Maison Martin Margiela Collection ($200 each), available for purchase in September at Margiela and select Converse stores.
Converse has an impressive list of past partners, from Missoni to Comme des Garcons and Marimekko, so if Margiela wants to make waves in the sneaker world, a line with Converse is definitely the way to do it.