We're pretty good at tracking down shoppable items that celebrities and bloggers upload to social meda. So we thought it was about time to highlight our own finds from our Instagram (if you're not following us yet–do it).
This week we're featuring The Legend Bracelet ($204) by Coordinates Collection. Not one, but two members of the SHEfinds staff have this cuff, myself and Marketing Coordinator Daniella Shevel. If you're wondering if we have the same coordinates, we do not. That's the beauty of this piece, you can choose your own! Mine are New York and hers are the exact hospital she was born at in South Africa. (K we know who the cooler one is now.)
We've seen jewelry with initials and even maps of special places, but never coordinates. Our bracelets usually get reactions like, "Dude, that's so cool!" or "Where do you get one?!" So besides being something pretty to throw up on our 'gram, we thought the bracelet deserved it's own post. Get one below: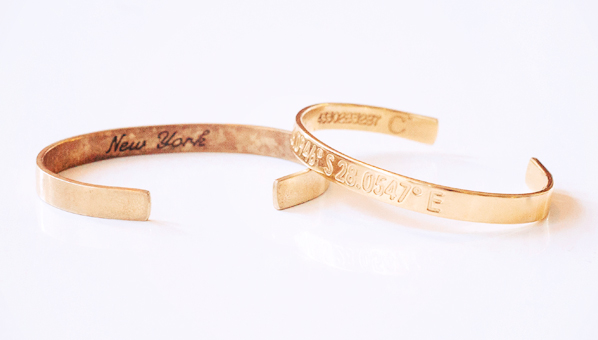 The Legend Bracelet ($204)
Oh, did I mention you can choose what kind of metal you want, an optional birth stone and an engraving for the inside? Yep, this bracelet takes personalized to the next level.
Like something you see on our Instagram and want to shop it? Great! Sign up for liketoknow.it, keep on liking the pictures on our Insta that you want to shop and you will receive an email with the product info and link to buy. Enjoy!
For more jewelry we're into, check out: ear crawlers, J.Crew fine jewelry and BaubleBar's emoji necklaces