The itty bitty titty committee is back in session.
According to the New York Times, women with small busts are doing less to pad, plump and hide their mosquito bites, and doing more to flaunt them. Their source? A petite lingerie company owner (Lula Lu) who says most small-busted women don't come to her for padded styles and a community of blogs like Small Bust, Big Heart.
We've told you about the big butt trend (courtesy of Kim Kardashian) and the padded panty trend (courtesy of Kelly Ripa) and this is just more evidence that a "flaunt what you got" campaign is sweeping the nation. Victoria's Secret models be damned.
Got a tiny bust? Check out some of our favorite styles to flaunt your goods:
The beauty of having a small bust is that you don't always need a painful underwire. A super-comfy bralette is a great way to go; this Hanky Panky Signature Lace Bralette ($46) is an especially sexy one.
Don't cover your little ta-ta's with padded, stuffed bras – flaunt them with sheer, lace bras like this sexy DKNY Signature Lace Seamless Underwire bra ($32).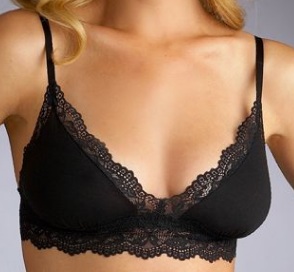 Another super-sexy, wire-less option is this Cosabella Ever Wire-free Bra ($43). Your boyfriend will be a fan, too (trust us on this one).
For everything you need to know about undergarments – check our guides to the best bras for smaller busts, SPANX, and the best wireless bras.