With rumors of John Mayor and Jake Gyllenhaal hook-ups, Taylor Swift may have a new reason to get dressed in the morning, and she's doing a mighty fine job of it. Taylor stepped out in this preppy meets nautical meets city girl outfit – and we love it. From the navy toggle peacoat, to the perforate high heeled Oxford shoes, yellow knit hat, and camel cross-body handbag, the girl is looking like she has an extra hop in her step. Try the look:
This fishermanthrow-back is a classic coat style we love. This navy Hooded Toggle Coat ($69.50, down from $79.50) nails the look, while still having a totally attainable price. Love it.
Opaque tights are every girl's best friend; wear Madewell Super Opaque Tights ($25) on fat days, when you haven't shaved, and other lazy times, and the hides-all-sins tights have got you covered.
Plunge into the Oxford shoe trend with these Tory Burch "Victor" Perforated Wedge Oxfords ($243.75, down from $325). The wedge heel is sexy and leg-slimming, while the Oxford shoe style still has that borrowed-from-the-boys charm.
Bad hair day? If you can't get your frizzies to be tamed, or just forgot to shower, this Nordstrom Cable Knit Cashmere Beret ($38) is the must-have fall accessory. Who knew you could look so cute with a cowlick?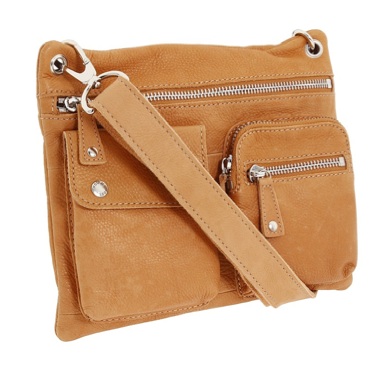 As we've told you many times, cross-body bags are huge this season, so get on the trend with this on-sale, neutral-colored Fossil Sutter Crossbody ($78.40, down from $98).
For more fall must-haves, check out our guides to the best booties, military jackets, and blazers.