First Look: Equal Opportunity Shapewear--Spanx For Men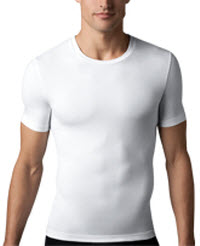 No matter which side of the fence you're on: yay or nay, Spanx for Men is here, to buy now. What do you think–has the shapewear trend gone too far, or is it just equal opportunity shopping? What would your guy think of you got him some for Valentine's Day? Says Spanx founder Sara Blakeley,   "The men in my life (and in Hollywood) have been asking me to make SPANX for men for years, so I was inspired to create comfortable and powerful undershirts that provide instant gratification."
This compression crew neck tee is for the guy who likes classic tees–and has a little bit of a belly and upper arms he doesn't want to show off.
The v-neck tee is perfect to wear under a button-down shirt for extra coverage.
Best for the man who might be apprehensive about shapewear, this compression tank hides his tummy, too.
See the best in shapewear, Spanx swimwear, and cheap shapewear that won't break the bank.