PS: Nothing is over $60 (!)
Finally! When we previewed the line back in September, we signed a confidentiality clause that prevented us from showing you & spoiling the suspense. But now you can see for yourself via The New York Times, above:  Jason Wu for Target is filled with springy, femme pieces like pleated A-lines, silk tops, touches of lace on tees and trenches, a mascot French-looking kitty cat and a bunch of really cool wicker bags with a branded nameplate right on the front. Take a good hard look and definitely save the date for…
Feb 5 (that's a Sunday!) so make plans to get thee to a Target somehow as we all know how crazy online shopping for Missoni for Target was this year. Below, see the ad campaign scouted by Lucky Mag.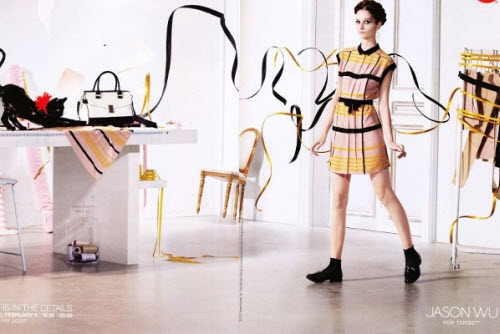 Insider tip: Keep an eye out for early released pieces only for editors on eBay and Craigslist, including a canvas tote with an emblazoned black cat and a lace-printed tee. They're not out yet, but it's totally bound to happen…
See more collaborations, our favorite sales and deals, online sample sales and best find of the day picks, too.