Everyone knows that health tech bracelets, like the Fitbit and FuelBand, are designed for users to wear 24/7. I mean, what else is going to scold you from going for that midnight snack? But now users are reporting that they're getting rashes from the newest Fitbit Force bracelet, and we have pictures to prove it. Even our own CEO, Michelle Madhok, has seen an itchy reaction. Check out this photo of her wrist: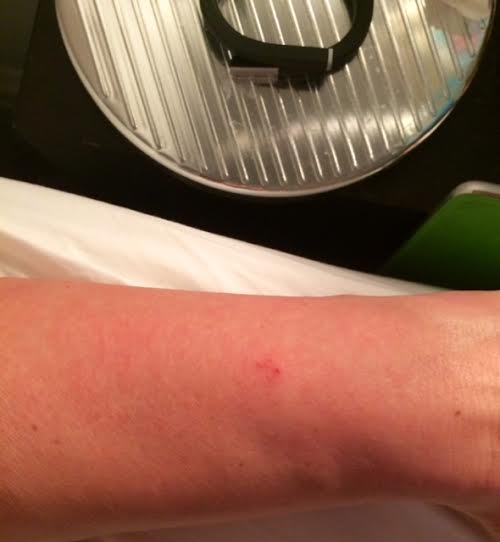 Specifically, people are saying that they have contact dermatitis, which is a rash often caused by an allergic reaction. Fitbit is aware of the issue, and is offering Force users a new bracelet or refund. They issued a statement to NBC: "We are looking into reports from a very limited number of Fitbit Force users who have been experiencing skin irritation, possibly as a result of an allergy to nickel, an element of surgical-grade stainless steel used in the device." They're also telling people to stop wearing the device if they are experiencing a reaction. #Duh.
Here's our question though, if it's actually an allergic reaction, why would FitBit be responsible? It's not like if I have a peanut allergy and I eat a spoonful of peanut butter that Skippy would take responsibility, so we're thinking something else is going on here. Is it because they used cheap materials? That's always a possibility these days. What do you think? Should FitBit be responsible? Let us know in the comment section below!
Don't forget to check out the Kim K photoshop treatment, Target's new collab, and Jessica Alba's boots