We all know the drill–when the flip-flops come out, it's time to paint your toes coral. Lately, though, SheFinds has been spotting a refreshing take on that time-tried tradition–brighter hues of orange, apricot and tangerine that look amazing with a tan and add a little more juice to your summer outfits. Here are a few of our favorites so far:
We also love this shimmery number by Anna Sui for Urban Outfitters ($16)–and how cute is the little rose-shaped bottle?
The Lippmann Collection's new addition "Supermodel" ($18) glides on a sheer reddish-orange, and was co-created by Dree Hemmingway, who is–you guessed it–a supermodel.
This vibrant shade by Paris-based Paul and Joe ($14) is a lighter shade reminiscent of mandarin oranges. We think it'll look amazing with a black swimsuit or cocktail dress.
Lastly, Nars–clearly seeing the same trend that we are– has just brought back one of its previously-retired hues, Cha-Cha-Cha ($16). Semi-sheer tangerine with gold reflections, it strikes us as a natural pick for tanned toes and strappy sandals.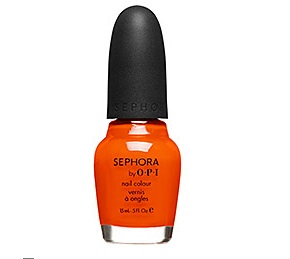 Lastly, this spiced-up version of coral Sephora by OPI ($9) –a limited-edition color, Caliente Coral, that we loved at first sight.
For more great summer beauty trends check out the SheFind's beauty Guide–or pick up one of our picks for top self-tanners. And don't forget to check out our guide to finding the perfect black swimsuit before your next trip to the beach.