After the gay marriage bill passed in New York, J.Crew President Jenna Lyons was quoted in several places on the dress code for gay weddings — and how her own brand had plans to do a white suit for lesbian brides. That might have been a bit of a foreshadow; Jenna has allegedly left her husband for jewelry CEO Courtney Crangi (pictured).
Let's take a closer look at how Jenna suggested gay brides and grooms dress for their big day… perhaps she'll be taking her own advice soon?
A flashback: the Times reported: "J. Crew has outfitted many lesbian couples at its Madison Avenue wedding shop, said Jenna Lyons, the company's president and creative director. Based on feedback, she said, there was a need for simpler dresses, as a way for a woman to differentiate herself if her partner decides to go the princess bride route. Ms. Lyons is also thinking of offering a white pantsuit. "It's not necessarily for a lesbian," she said. No, but the company now has a greater incentive to add the style."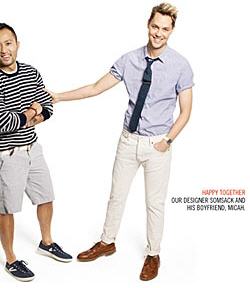 A J.Crew ad
Perhaps Jenna and her lady love should check out our selection of sexy tuxedo-wear for women. Shop "simple dresses" and white suits, in keeping with Jenna's tips:
Shop our guides to the best simple bridesmaid dresses, long bridesmaid dresses, and satin wedding shoes.