Kate Middleton looking fierce in jeggings, a utility shirt, and boat shoes.
Who knew that Kate Middleton could look so, well, hip! While we're used to her looking prim and put-together in one of her signature Reiss dresses, we were shocked to see her sporting three very of-the-moment trends: jeggings, a utility shirt, and boat shoes while boarding a plane in Canada yesterday. The jury's still out on who designed her shirt, but we found her Sebago Bala boat shoes (for only $80!!) at Endless.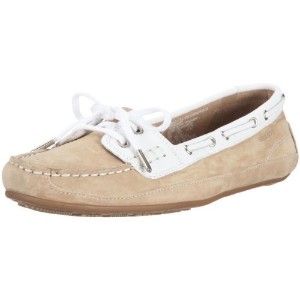 At this point, the nude version is not available, but a similar brown or blue style are both (on sale!!) on the site. Shop all colors and style of the Sebago Bala boat shoes here at Endless.
Be sure to check out our buying guides to nude shoes, white jeans, and celebrity denim.