Last time we checked, all the cool designers were collaborating with bloggers (Man Repeller for Del Toro, DKNY x Bag Snob, and Pinterest + Calypso St. Barth, to name a few). How times have changed: in the last month or two, a batch of socialite collaborations have popped up. Is this the next "big thing" in our collab-crazy world?
Case in point: Russian socialiate, designer and Pop magazine editor Dasha Zhukova just designed a pair of round-frame sunglasses for Illesteva (they're $295 and a percentage of proceeds goes to charity, respect), Ernest's great-granddaughter Dree Hemingway did a whole collection for Sandro, and Annabelle Dexter-Jones, sister of Sam and Charlotte Ronson, collaborated with Illesteva and designed a line for French label Faith Connexion (overachiever alert!).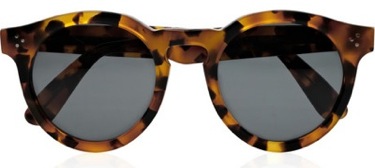 Dasha Zhukova for Illesteva round acetate sunglasses ($295).
Would you buy a collection just because a celebutante endorsed it? What if they had a hand in the design? Annabelle, Dree and Dasha do have some pretty amazing personal style, and we're quite keen on Dree's Sandro line (but we love almost anything Sandro). We're just praying Paris Hilton doesn't come along and kill the trend (her dream collab would totally be Hello Kitty, right?).
SEE PHOTOS IN OUR SLIDESHOW ABOVE
Check out the lines, and if these ladies' sartorial prowess put you in the mood for some shopping, browse our guides to the best dresses, shoes, and handbags.