Forget The Lame Monogram Tote, Give Your Bridesmaids This "Knotty" Gift Instead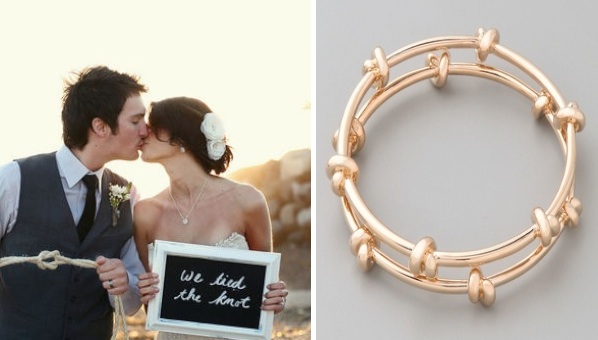 Pardon the headline pun – we couldn't resist. But seriously, if you're a bride who fancies herself a wordsmith, or just wants to go above and beyond, then you'll love this Pinterest-inspired gift idea. Instead of monogrammed tote bags (so overdone!), thank your bridesmaids for "helping you tie the knot," with a pretty gold knotted bangle! #Genius. We're obsessed with the CC Skye 'Love Me Knot' bangle set ($132 for a set of 2) because you get 2 bracelets per set. Include a handwritten note that begins with "Thanks for helping me tie the knot!" and your bridesmaids will think you are the most clever bride around.
For more bridal goodies, check out this awesome bride gear (it's a hall pass for diva behavior, 10 things to NOT do before your wedding, and the 'morning after' portrait trend.