This week's Freebie Friday prize will keep your wallet fat, your thighs slim, and your style in check (sorry, Prince Charming is not part of the deal.) The Lindsay Tank ($48) above is a universally flattering style that can be layered under blazers or cardigans and will become your go-to cami.
Enter below to win $250 worth of Yummie Tummie shapewear.
Shapewear is not only supposed to make you look slimmer, but it should also make you feel more beautiful… not like a human sausage. That nuance is what makes Yummie Tummie one of the best selling brands out there; not only will it make you look great, but you'll still be able to breathe and go about your daily life like a human being. Think Wow, not Ow!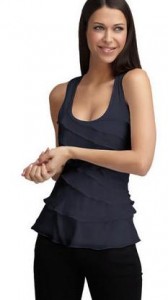 The cherry on this diet sundae, however, is Yummie Tummie's selection of underwear as outerwear. The brand new ready-to-wear collection features pieces like the Chiffon Tier Top ($96) that are sexy and shaping at once.
These editor's favorites (and many more) can now be yours without thinning out your wallet. To win the $250 shopping spree, just sign up to our newsletter and comment below about which Yummie Tummie piece you'd choose for yourself.
Want it now? Visit Yummie Tummie to shop the latest collection.
Rules:

1. You must be a subscriber to our newsletter to be eligible. Sign up here if you haven't already done so.

2. To enter, all you have to do is comment below about which is your favorite Yummie Tummie product.

3. You must supply us with a valid email address.

4. The contest starts now and entries must be date stamped by our server no later than Friday, April 8, 2011 at 11:59 AM Eastern Time to be eligible.

5. One winner will be selected during a random drawing and will be notified via e-mail and must respond as instructed to receive the prize.

6. No prize substitutions.

7. You must be 18 years old or older and a resident of the US to enter. Entries from the state of Florida are void.

8. No purchase necessary.

9. Void where prohibited.

10. Click here to see the full rules.