A great fitting denim skirt is an essential piece in a woman's wardrobe. I'm not talking about the ones so short that you can see your nethers, but ones that make you look sexy and casually sophisticated. Here are a few of our favorite finds.
The Ultra Skinny: Antik Denim's Daphne Skirt in Blue
($152 @ CoutureCandy.com) is as suitable for a dinner date as it is for the office. Dress it up with heels (a must with any pencil skirt) and throw on a blazer to for more professional appeal.
White Hot: Ann Taylor's Denim Mini Straight Skirt ($58 @ AnnTaylor.com) is the perfect pick for your summer weekend when you can't find anything else to wear. Day or night, seaside or in the city, the crisp white mid-length style is flattering and functional, easily dressed up or down depending on how you accessorize.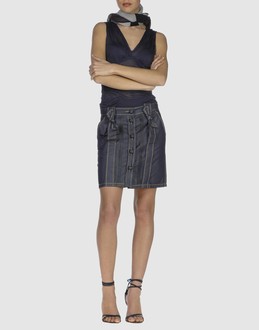 Trés Chic: This sassy Viktor & Rolf Denim Skirt
(on sale for $189 @ YOOX.com) has some must-see detailing that make it anything but basic. Cute buttons lline the front, contrast stitching gives it that extra fashionable touch and the sweet bows make it stand out from the crowd.

Dark and Down-to-Earth: We love this A-line Knee-length Denim Skirt
($78 @ BananaRepublic.com) because it's easy to wear and ultra-flattering on just about anyone. Modest enough for casual Fridays, but fun enough to wear on the weekends, we think this is one style you'll come back to time and time again.
Have a favorite denim skirt? Tell us about it in the comments section!