I'm a cat person, but I have a soft spot in my heart for all things houndstooth. The duotone pattern can be big and bold or subtle and sophisticated, and it works well in all kinds of doses and in many forms.
1. Michael Kors' classic wool houndstooth pencil skirt ($650 @ Nordstrom.com) is what this pattern is all about. It's a fantastic, graphic alternative to basic charcoal or boring pinstripes, and it makes a great background for a bold accent color like kelly green or royal blue.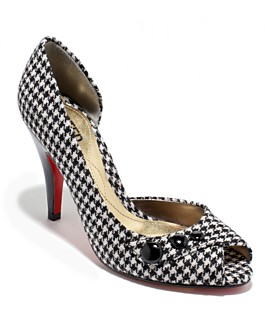 2. Sometimes, less is more, and that's definitely the case with the Unlisted "High Style" Pump
($48 @ Macys.com). If you're afraid of overdoing it, or have an aversion to chunky patterns, these pumps are like houndstooth lite — just enough to make a statemen, and clad with a red sole.
3. Need the perfect day-to-night transition piece? Opt for this Printed Miracle Stretch Halter Top
($39 @ Rampage.com). Let it pop under a blazer paired with skinny jeans and black heels for work. Lose the jacket and swap your heels for bright, kicky flats when you get to the bar for a hip, rock 'n' roll vibe.
4. Houndstooth may be known as a dressy pattern, but it's not just for the workplace. Merona's Canvas Tote Bag, with admiral blue checks is offset with apple green piping ($13 @ Target.com) and is a great way to get houndstooth into your everyday wardrobe. As far as prints go, this one's a never-miss, so it works perfectly with a casual carryall.
5. Have a favorite houndstooth piece that you break out whenever your wardrobe needs a punch? Let us know about it in the comments section below.