Full, youthful brows are all over, but if you're not sure (like me) that this trend is for you, there are plenty of ways to fake it. That means… you can keep your regular waxing appointments and paint 'em on for a night out.
The trick is to create strong, full brows that frame your face without overwhelming the rest of your features. Waxes and pomades with natural colored brow powders are the perfect combination for keeping hairs in place and filling in the natural lines.
Smashbox Brow Tech ($24) will achieve a feminine but youthful look. Use the soft color to fill in your brows and the colorless pomade to tame them. It comes in multiple shades to match your brows.
Anastasia Brow Express ($38) has it all – brow stencils to help you test different shapes, brow powders, an angled brush, a cream highlighter and a wax cream for shaping.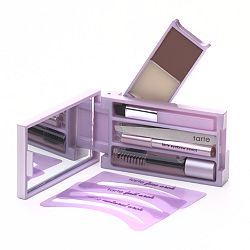 Tarte the Toolbox: Brow Know How ($32) comes with tweezers, pomade, stencils, and everything else you could possibly need to get your brows fully in order.
Make sure your eyes are done to their best with the best mascara, eyeliners, and waterproof makeup (in addition to the above nifty brow kits).