You may remember last year when everyone was flat out shocked to learn that there was a massive waitlist for LL Bean's classic Bean Boots. They've been around forever, but thanks to millenials and Instagram, they completely blew up last winter and it was basically impossible to get a pair.
Well guess what? After a long, hot summer, there are still Bean Boot styles that are currently backordered. In fact, almost every Bean Boot style is currently unavailable to ship immediately. I tried to order a pair of the 6″ padded collar boots and they won't be available until January 2016! Yikes! No way can I wait that long. I panicked and went to the store the next day and was insanely lucky to get the last pair in my size.
In the spirit of paying it forward, though, I decided to sound the alarm. If you want a pair of Bean Boots before it gets cold and you actually need them, you'd better act fast–like literally go to llbean.com and get a pair right now. Below is the one style that isn't currently backordered according to the site.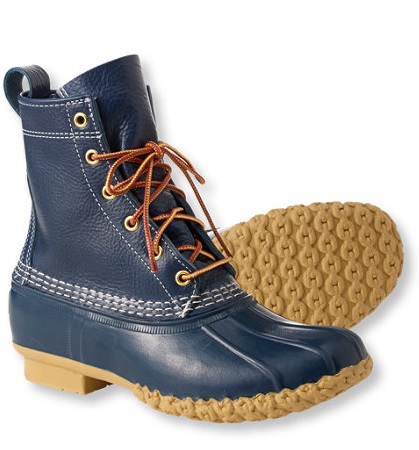 Women's Bean Boots by L.L.Bean®, 8″ Thinsulate in Raven Blue ($139)
Have big and/or narrow feet? You're in luck as there are a few styles that are available in size 11 or narrow width. If you fall into either of these categories, check out the Women's Bean Boots by L.L.Bean®, 8″ (size 11, Narrow/AA width), Women's Tumbled-Leather L.L.Bean Boots, 8″ Shearling-Lined (size 11), Women's Bean Boots by L.L.Bean, 8″ Gore-Tex/Thinsulate (size 7, Narrow/AA width), Women's Bean Boots by L.L.Bean®, 6″ (size 10 or 11) and Women's L.L.Bean Boot, 6″ Padded Collar (size 11).
Don't miss the best corduroy for fall, Katie Holmes' Old Navy overalls and the crisscross ring bloggers love.