Most people think of jewelry as a way to accessorize an outfit, but that's not always the case. Sometimes there's an accessory that's just so stunning, you build an outfit around it.
That's exactly the case with G-SHOCK's stunning new G-MS timepiece. I normally find watches a bit bulky and cumbersome, but after a few hours wearing this sleek timepiece I barely even noticed that I had it on. Other people did, though! I got so many compliments; people kept asking what watch I was wearing. 
When thinking about how to style this fashion-forward watch, I keep three simple rules in mind:
– Don't overdo it. Because this watch really is a statement piece all on its own, I usually wear it solo. Yes, I know arm parties are still popular these days, but I really like to let this gorgeous watch be the star.
– Think contrast. My watch band is white, so it's really important to me to not wear white or light-color tops when rocking this watch; I want it to catch people's eye. The contrast of a black top next to the white watch band looks great.
– Wear it with confidence. This watch commands attention and so should you! Whether you're wearing this watch on a first date or during a big presentation at work, don't be afraid to be bold.
PS: If the white watch band isn't your style, no problem! G-SHOCK's G-MS timepiece comes in a bunch of other pretty color combos: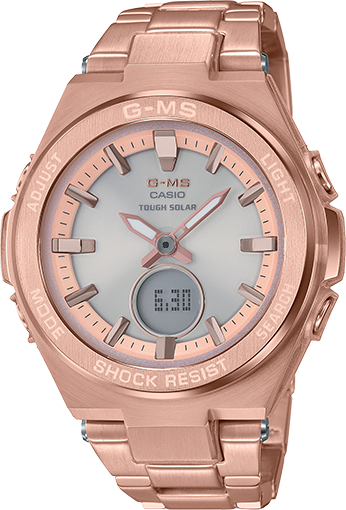 SHOP THE G-SHOCK G-MS TIMEPIECE NOW
The editors at SheFinds wrote this post on behalf of G-SHOCK and received compensation as part of our agreement.