Forget that waiting list you signed up for last month, you can buy Benefit Cosmetics' They're Real! Push-up Liner ($24) right now! Even though it isn't supposed to hit stores until June 27th, Sephora is giving us exclusive early access to the product today. For ONLY 24 hours, you will be able to purchase Benefit's new liner before anyone else (aka. you will be way cooler and have better looking eye-makeup than all of your gal pals). Awesome, right?
This liner was designed to make your eyes pop by allowing you get closer to your eyes and draw straighter lines than ever before. And if you really want to make your eyes pop, you should grab a tube of Benefit They're Real! Mascara($23) too. It's the best mascara around, and it will go perfectly with your new liner.
If you're dying to get ahold of Benefit's new liner as much as we are, click on the link below NOW! You can't waste any time. This offer is only available for 24 hours and while supplies last. So if you don't want to miss out, you have to hurry. Let's see some hustle, ladies.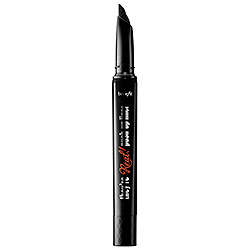 Benefit Cosmetics They're Real! Push-up Liner ($24)
GET EARLY ACCESS TO BENEFIT COSMETICS THEY'RE REAL! PUSH-UP LINER NOW
To shop for more beauty products, check out: Urban Decay makeup setting sprays, GlamGlow mudmask, and Nivea lip care.
[Photo: Sephora]