Get Gwen Stefani's Syndey Evan Jewelry From The Voice Top 12 Episode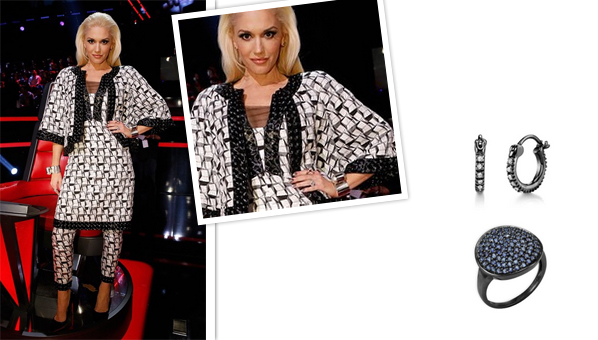 Gwen Stefani joining The Voice this season has been a very good thing for the designers she's worn on the show (I mean, obviously). The singer and mom of three boys posts details about her outfits on Instagram and on her own site gwenstefani.com after each episode, plus tips on her hair and makeup and style inspiration. Hey, thanks Gwen!
Last week she posted a look we are especially loving because it features our absolute favorite jewelry designer Sydney Evan (maker of Lauren Conrad's Love ring and countless other celebrity favorite pieces). Gwen rocked the Black-Rhodium & Diamond Huggie Hoops ($660) and Circle Disc Pave Ring In Black Rhodium (shop similar here) on the Top 12 show three weeks ago. We're definitely Team Gwen on this one.