Cheer up, Jessica Alba! You're wearing a limited edition MiH Jeans Aztec Jacket ($671.44), which can easily double as a one-of-a-kind vintage piece (don't worry, we won't tell anyone). The piece's multicolored striped pattern is what makes it unique, and kind of in tune with this Mexican Rave trend we've been seeing lately.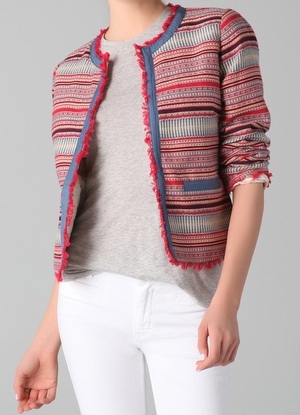 Get this MiH Jeans Aztec Jacket ($671.44).
The fact that it all comes together onto this Chanel-esque jacket pretty much has us sold. See what you just did, Jessica? You just made the world a little bit more fashionable.
Shop more celebrity style finds: Miranda Kerr's Balenciaga jacket, Sienna Miller's Pamela Love cuff, and Reese Witherspoon's Autumn Cashmere sweater.