Kim Kardashian stepped out at the Teen Choice Awards wearing the look that she, well, looks best in: a glam bodycon dress, her dark hair in a high pony tail, and, of course, bronzed skin and flirty, smokey eyes. While it may not be so easy to snag her signature curves, it is easy to get her makeup look–even at drugstore prices.
Get Kim's sexy eye by first lining your lids with a dark kohl liner like L'Oreal's Le Kohl Pencil ($8.79). This rich liner in "Carbon Black" glides on easily and can be smudged a bit to create a smokey effect.
Get Kim's gorgeous Armenian eyelashes on the fake with these easy to apply Maybelline Expert Lash False Eyelashes Natural ($6.99).
If you don't have time for false lashes, a good alternative is Maybelline's new mascara, appropriately called The Falsies ($7.49). This formula not only separates lashes, but lifts them up, creating a voluminous fringe much like Kim's.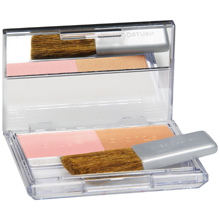 A natural, bronzed flush is also key to this look, so make sure to choose a bronzer that suits your skin tone. A good, foolproof option is Neutrogena's Healthy Skin Custom Glow and Bronzer ($12.49), which pairs each shade of the bronzer with its complementary blush. The result? A sun-kissed glow that's not too bronze, not too pink, and just right for the red carpet.
Top it all off with a  pink pout, and if you aren't lucky enough to have been blessed with naturally plump lips, you can fake it for under $10 with Maybelline's Volume XL Seduction Lip Plumper in "Born With It" ($8.49). The tingly formula boosts your pout while imparting a Kim-like pink shine.
Find more celeb-worthy beauty looks with our guides to the best eyeliners, mascaras, and concealers.