If anybody knows how to look naturally beautiful, it's Gisele Bundchen. The model-turned-mommy just launched a 100% natural skincare line named Sejaa–a play on the Portuguese verb "seja" which means "to be." Guess she's pretty relaxed these days. The first launch of products includes a day cream, night cream, and a mud mask. All of the products are free of parabens, artificial ingredients, and packaged in recyclable containers. Though the line is more than the drugstore brands, ($70 for day and night cream and $56 for the mud mask), if Gisele uses  it, maybe it's worth it.  [Stylelist]
Gisele's Sejaa Day Cream ($70) includes aloe vera, shea butter, jojoba and argan oils to keep skin soft, and to provide protective antioxidants.  
This Sejaa Night Cream ($70) helps skin produce collagen and repair itself.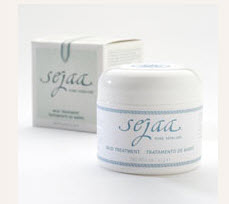 Sejaa Mud Mask ($56) is made with natural clays that draw impurities from the skin.
Get up to date on fashion and beauty in our news section, and then check out our beauty roadtests, and our guides to the best acne treatments, and the best eye creams.