Well, it's official: loose waves are, once again, the "it" style for spring. We've seen it on runways and celebrities alike–it's basically Selena Gomez and Chloe Grace Moretz's go-to style, as seen at the Louis Vuitton show earlier today during Paris Fashion Week–and the best thing about it is that every girl can achieve the look. You only need two or three tools (depending on your hair type), a few simple steps, a little bit of practice and voila! You're a style star. Follow these 3 steps to get Selena and Chloe's look:
1. Wash and blow dry your hair. I have very fine hair, so I find that I can style my hair a little bit easier if I blow dry it before doing anything else to it. If you have naturally straight or very workable hair, feel free to skip this step. Pro tip: this style can work really well on second-day hair!
2. Spray a protective serum all over your hair, and, using a wide barrel curling iron, start curling one- to two-inch sections of hair away from the face. I'd recommend using a 1 3/4″ curling iron, simply because it's the one I use and I've found success with it. If you're using a curling wand, simply curl the sections of hair away from your face around the wand (toward the back of your head). If you're using a classic curling iron with a clip, make sure that the clip is always facing the front. That's how you're going to get the curls to go in the direction you want. I'd also recommend doing this in layers, starting from the bottom–it's just easier to manage your hair that way.
3. Create a part wherever it suits you best, then comb through the tighter spirals to loosen them up. You want to do this before the curls cool completely. Once they're combed out, spray a light hold hairspray, and you're good to go!
If you're looking for some style inspiration or a picture to look at for reference (ALWAYS a good idea when you're trying out a new style), here are some images of Selena and Chloe with their perfect mermaid hair: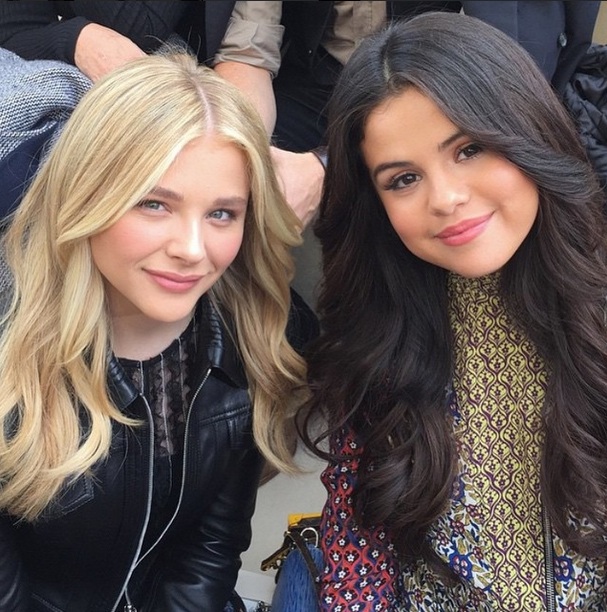 via @teenvogue
And don't forget to check out: cricket sweaters, kimono cardigans and Reese Witherspoon's leather jacket
[Photos: Instagram/Splash News]