Nicole Richie, lover of halter tops and dresses, just debuted her new show Candidly Nicole on VH1 (it's based off her Twitter feed, more on that later) and unsurprisingly she wore not 1 but 2 halter-top styles in the first episode – including this very cool "Portia" maxi dress from Carmella ($574) which is shoppable online: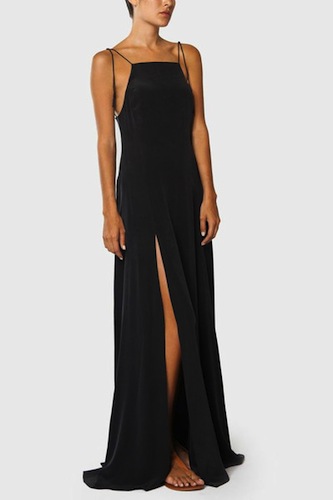 Nicole wore this Carmella Portia Maxi Dress in a scene where she helps her friend Erin set up and execute an online dating profile. Hilarity ensues. 
More on Candidly Nicole: the show is as quirky as you'd expect a Nicole Richie show to be–it's silly fun. It's definitely staged and not a reality show in any way, but that's okay. Remember, the show that put her on the map, Simple Life, wasn't reality either (in real life, heiresses don't get dumped on to dairy farms). She kind of thrives in contrived, outlandish situations where she can just run her mouth. Girls got quips for days. Don't worry about setting your DVR, the show is available on VH1's On Demand programming for most cable networks. Enjoy!