Oh Karolina Kurkova, didn't anyone ever tell you "less is more?"
I appreciate her enthusiasm, and we all know this girl loves a good turban, but although Karolina gets as close as possible to pulling off alien-chic at last night's Met Ball in head-to-toe (literally: Head.To.Toe) Rachel Zoe, her look is in no way street-style appropriate. And quite frankly, what is with Karolina's excessive headgear on the red carpet?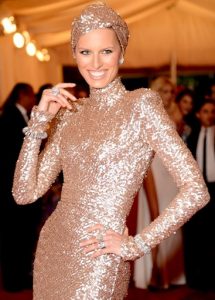 [Karolina Kurkova in Rachel Zoe]
Lucky for us, this trend is super-easy to copy without going overboard.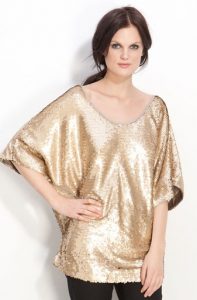 [Rachel Zoe Dolman Sleeve Top, $350, Nordstrom]
Why not don a loose Dolman-sleeve top (also by Rachel Zoe) with white jeans, wedges, and an updo? Or dress it up for a night out on the town with a body-con skirt and heels. Either way, try not to accessorize with a matching sequined hood.
Check out more sequins that do work: on tanktops, dresses, and skirts.