The the much anticipated sequel isn't even out yet (get your SATC2 tickets here), but stills from the film are all over the web–and we're having heart palpitations over sneak peeks of the fabulous foursome's outfits. Check out some of movie stylist Pat Field's best looks:
Maxi Halter Dresses
A halter maxi dress is a great summer piece – so pretty yet comfortable and easy to wear. We love the look in both solids and prints – and so do the SATC ladies.
We love the pretty pink and sexy cut-out of this Splendid Mini Stripe Jada Dress ($139). Splendid dresses are always comfortable – you will live in this dress all summer.
If you're looking for a patterned maxi – this ALICE + OLIVIA Purple Zig Zag Long Halter Dress ($121.00, down $484.00) is a knock-out.
Python Hobo Bag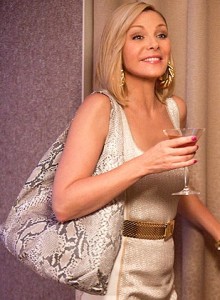 Ah, we love Samantha's bold style – python print bags are huge this season and she rocks the hobo style to the max. And that Cosmo looks pretty good, too.
This MICHAEL Michael Kors "Fulton" Python-Embossed Medium Shoulder Bag ($228) looks exactly like the bag Samantha wears.
Studded Black Dress
We love this studded look – especially on a plunge neckline gown like Miranda's.
Try the look with this sexy Warehouse Studded Stripe One Shoulder ($169.09). We must say, the studded detail on this dress looks better than Miranda's.
Sparkles, Sequins, Be-Jewels – Oh My
As if you weren't sold on the sequin trend already, the SATC2 gals make us love it even more. Whether it comes in the form of a silver belt, or black strapless dress, we think this look has legs.
The SATC2 ladies get an instant pop of bling with sequined accessories – we love this Forever 21 Elastic Sequin Belt ($6.80).
Get Charlotte's sparkly look with a black sequin dress like this By Malene Birger Kace Sequined Tank Dress ($92.75).
We love Carrie's sparkly skirt in this scene – if you're trying out the look, go for Robbi & Nikki Sequined Miniskirt ($158).
Check out the must-have blazers right now, and then see our guide to celebrity denim,  celebrity style sunglasses, plus more celebrity style posts.