I was lucky enough to be born with naturally full lips, but that's about where my lip luck ends. My lips peel like there's no tomorrow. And they get dry so often! It often seems like no gloss or balm out there can keep them hydrated and smooth.
That is, until I tried Kaplan MD's Perfect Pout. Created by Beverly Hills-based dermatologist Dr. Stuar Kaplan, this is the product I've needed all my life! According to Dr. Kaplan, lip augmentation is the #1, fastest growing cosmetic procedure in the world. "I wanted to create an easy, natural alternative that instantly softens and plumps lips, while smoothing away fine lines and protecting against sun damage, all in one," he says.
And that's just what the Perfect Pout does. The set includes a lip mask and balm that work wonders on your lips. "The Perfect Pout has fruit enzymes that will dissolve the dead cells, ingredients that will plump the lip contour, nourish the lips, hydrate them and be anti-inflammatory," Dr. Kaplan explains.
It's important to note this mask is super gentle. Unlike lip scrubs that contain super abrasive ingredients, the mask in the Perfect Pout set is super gentle. It literally dissolves the dead cells without any rough scrubbing required.
Winter is notoriously brutal on my lips, so I put the Perfect Pout to the test this weekend and I'm a convert. My lips have honestly never felt better! We all know to take proper care of our face, but many women often forget about their lips. Don't make that mistake! Get your Perfect Pout today for crazy soft, plump (kissable!) lips in a flash.
BONUS: Kaplan MD is actually running an amazing deal on The Perfect Pout. For a limited time only, you can get two Perfect Pout sets for just $40!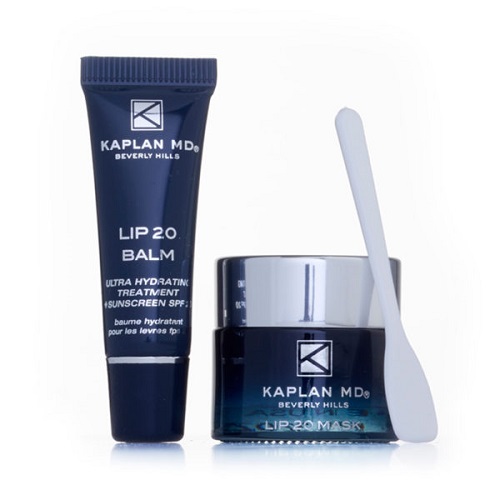 SHOP KAPLAN MD'S PERFECT POUT NOW
Shop the best drugstore beauty products and our favorite embroidered jeans.
[Photo: Kaplan MD]
SheFinds receives commissions for purchases made through the links in this post.