Vanessa Minnillo and Nick Lachey were unable to go on their dream honeymoon in the Maldives because of timing, so they ended up on a mini-moon in St. Barths — we know, how tragic. The recently married star was spotted on a private yacht in a Shay Todd string bikini that we're obsessed with.
If you've never heard of Shay, her celebrity devotees include hot bodies Eva Longoria, Heidi Klum, Lindsay Lohan and more.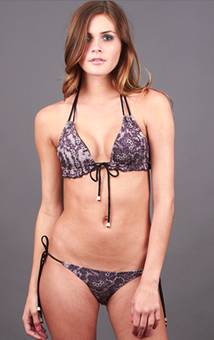 While we can't promise you her rockin' body, we know that she was sporting the Shay Todd Cookies N' Cream Bikini ($207), and it's available online now.
Luckily, we also found several of Shay's bikini's on sale:
Too early for honeymoon planning? Shop our guides to inexpensive wedding dresses, simple wedding dresses, and strapless wedding dresses now.