High West Campfire Whiskey ($54)   "Campfire is a blend of bourbon, rye whiskey, and a peated Scotch. Love any or all of those whiskey varieties, then you'll dig what's in this bottle. Every sip delivers sweet vanilla and caramel from the bourbon, a pinch or rye spiciness, and a nice whiff of peaty smoke." - Kevin Sintumuang, GQ web editor
Shop more gifts from
GQ
.
Gramophone for iPod/iPad ($249; $299) "Made to look like a vintage Gramophone, this wireless docking station pumps up the volume of your tunes by a factor of three or four, using physics rather than electricity. It's amplification the old-fashioned way." Shop more gifts from Rolling Stone.
Timex Ironman Race Trainer Pro ($200) "A wireless data exchange feature lets your guy easily track his stats online." Shop more gifts from Men's Fitness.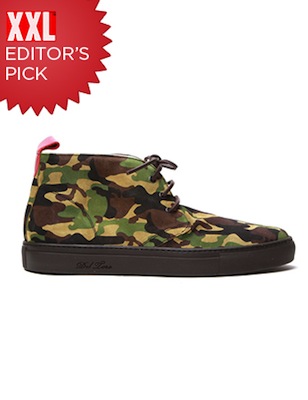 Del Toro Camo Suede Alto Chukka ($325) "As camo continues to be the pattern of choice this year, get your guy ready for the winter with Del Toro's new leather lined camouflaged chukka." Shop more gifts from XXL.
Stussy Sport Pom Pom Beanie ($29) "This beanie from the cult streetwear label will keep your man warm....and cool." Shop more gifts from Hypebeast.
Halo 4 ($59) According to the editor's at Men's Health, all you need to know about this highly anticipated sequel is that your guy gets to shoot stuff and the game looks awesome in high def. Shop more gifts from Men's Health.
Bang & Olufsen Beolit 12 Portable Speaker ($799) "It's a speaker that looks like a cooler, and with its 120 watts of sound it blows the competition out of the water, making it worth the extra dollars." More tech gifts from Details
Mugler Black Patent Sleeve Bomber Jacket ($2850)
"I love the mix of street silhouette with the high-end slickness, perfect for the holidays season whether you're in a fancy uptown mixer, or a cool downtown party." - Quan Mai of GeneticBoi
Shop more gifts from GeneticBoi.
Spiegelau Beer Glasses ($49.99) "After all these years as a reliable drinking buddy, he deserves a proper set of glassware."
Shop more gifts from Esquire.
Gucci Leather Jewelry Brief Case ($5,900) - From Mr. Porter's gift guide for "the man who has everything," we present to you the jewelry brief case. The stylish, organized man in your life will love it. Shop more gifts from Mr. Porter.