Coworkers are among the hardest people to get gifts for, but here are some simple solutions that will leave everyone pleased, from your overworked assistant to that receptionist who thinks she's Joan Holloway.
For your label-loving boss: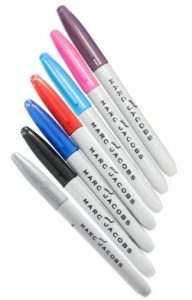 Is your cubicle mate always talking about the latest Alexander Wang bag? Well, you don't have that kind of cash, but you can feed her label obsession with these MARC by M. JACOBS Bookmarc Fine Sharpie Multi Color Pens ($9.99). But hurry- these are Sold Out List-worthy.
For your overworked assistant:
For your overworked assistant or intern, nothing says thank you like Modcloth's Woodland Stroll Travel Mug ($24.99) and a Starbucks gift card to go with it.
For your Joan Holloway-wannabe receptionist:
Is the office receptionist living in her own Mad Men fantasy world, dressing up like Joan Holloway one day and Betty Draper the next? Gift her some inspiration with Mad Men Season 2 ($19.97).
For your disorganized intern:

Is another coworker always asking you the date and forgetting what days the meetings are? Help her out with this adorable Pretty Little Things Wall Calendar by Jonathan Adler ($17.99).
For your music-blasting cube mate:
Modcloth's Country House Earbuds ($14.99) are just the thing for your coworker who is always blasting Rihanna. The entire office will thank you.
For your office BFF:
J. Crew Glitterati Party Clutch ($59.50) is perfect for your best friend in the office, the girl who treats you to happy hour when you've had a bad day. Now, she'll have just the right bag to bring along.
Check out more of our favorite gifts, like gifts for your party animal friends, gifts for your homebody friends, and gifts for your reality TV show friends. Then, check out more of the best evening bags in our shopping guide.