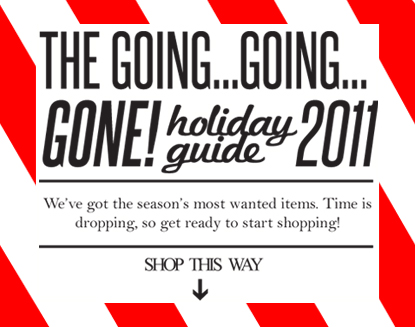 Tory Burch Envelope Clutch$325

Get it now at:

This gorgeous oversize clutch will be the life of any party.

Equipment Silk Blouses$82

Get it now at:

Seen on stylish celebs everywhere: unlike most button-downs, they flatter all busts and body types.

iPhone4s
$199Get it now at:

The latest iPhone is faster and smarter, with a new camera, and 200 more new features.

Books with Style Chanel Three Book Set
$75Get it now at:

Where else can you get a piece of Chanel to keep for under $100?

Hunter Boots Adley Lace Up Flat Boots
$250Get it now at:

Kate Moss's favorite rain boots, now in lace-up form with a cozy shearling lining.

Kindle Fire
$199Get it now at:

Now in color, with web browsing capabilities. Kind of like getting two iPads for the price of one.

ASOS Blanket Wrap Cardigan In Fairisle
$65Get it now at:

Fair Isle gets a modern makeover: give this cozy gift now

Orgasm Blush Kit by NARS
$49Get it now at:

The number one best selling shade of makeup ever, NARS has created a genius blush kit. There's a reason this is so popular: it's the shade that works on every skin tone.

Cambridge Satchel Company Handbags
$134.99

From neon colors to ultra classic navys and browns, these satchels are seriously hot this year.

Apple Macbook Air$999

Get it now at:

Lighter, faster, and sleeker, this is perfect whether you travel a lot or just carry your laptop everywhere.

Prada Candy Perfume
$80Get it now at:

The bottle alone is a show-stopper and the scent is a feminine white musk that's in high demand.

UGG Dakotas
$100

These slipper-mocassins can be worn inside and outside, and they're lined in plush shearling.

The Ultimate Physique 57 Workout Kit
$100Get it now at:

This two-week workout program has a celeb following–it's the gift that keeps on giving, now in DVD form.

Rebecca Minkoff Morning After Bag
$550Get it now at:

A fashion set staple–now with monogramming! From clutches to handbags.

Topshop Leopard Smoking Slippers
$40Get it now at:

Ballet flats have been replaced with an edgier kind of flat.

iPad 2
$499Get it now at:

Give the gift of the entire Internet at your fingers: now lighter and with a camera!

Bobbi Brown 20th Anniversary Lip Palette
$60Get it now at:

The makeup queen re-releases her classic colors with new ones, all in one palette.

J.Crew Dodo iPad Case 
$75Get it now at:

These are not only unisex and look like a book cover, they also fit your iPad2.

Rachel Zoe Faux Fur Vest
$157Get it now at:

If anyone knows faux fur vests, it's Rachel Zoe. She practically invented the look.

Plush fleece leggings
$75Get it now at:

Plush is upping the ante this year with their new fleece leggings that are warm and lightweight.

Brian Atwood Fredrique Shoes
$325

Make a statement in these stunners in the color of the season.

Gorjana BFF Stacked Rings
$88Get it now at:

A cool, modern take on those Best Friend broken heart bracelets.

J Brand Velvet Leggings
$183Get it now at:

Warm and festive, these velvet leggings also fit incredibly well.

Smythson Dance Like No One's Watching Leather notebook
$80Get it now at:

Notebooks have never been more fun – with unexpected sayings and fun colors, they're eye-catching and fashion-forward at the same time.

Cat Eye Raybans
$129Get it now at:

This year's new aviator–the retro cat eye is back with a modern edge.

Marc by Marc Jacobs Snakeskin iPhone Case
$38Get it now at:

Make a statement–even on your iPhone.

Classic Minnetonka Fringe Boots
$56Get it now at:

These don't go out of style–probably because they're super comfortable and made of supple suede.

Miu Miu Glitter Pumps
$850Get it now at:

Fashion insiders have been lusting after this pair of glitter booties for months.

Gap Infinity Scarf

$34.95

Get it now at:

An inexpensive scarf that doesn't look it: she'll wear it every day.

Nixon Time Teller Acetate Watch
$150Get it now at:

This Nixon watch is sleek, light-weight and easy to read. Fashion meets function.

Houndstooth TOMS
$54-$79Get it now at:

Buy one pair of TOMS, give a pair to a child in need. This year's holiday fabric is classic houndstooth.

Deborah Lippman Red Glitter Nail Polish
$18Get it now at:

The master of manicures has created a color that'll make even the Grinch smile.

Tory Burch Leather Wrap Bracelets
$98Get it now at:

Tory label lovers will flip for these mulit-colored bracelets: layer them or wear them alone.