When your guests arrive to celebrate your big day, don't leave them hungry in their hotel rooms. Welcome them with a personalized welcome bag tailored to your wedding weekend. Order a few of our suggestions, then throw in a few local finds to make it your own.
1. Hotels can feel like, well, hotels, so make your guests feel more at home by gifting them a Bath & Body Works Dark Kiss candle ($5) to warm up the room with the sweet scents of berries, flowers, and, as the name says, kisses.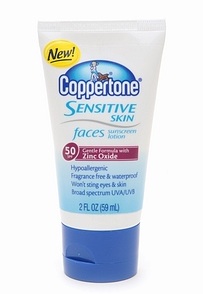 2. When the weekend calls for outdoor events, make sure your guests are well prepared with the pint-sized protection of Coppertone Faces Sensitive Skin Suncreen Lotion SPF 50 ($7.99). Consider it insurance against any sunglasses-shaped tan lines in your photos.
3. Hotel rooms and churches can be drafty, so plan to wrap your guests in the soft dreamy material of the Stripe Jersey Scarf from J.Crew ($39.50). Pick a neutral print that blends with your wedding colors and expect to get a lot of thank you notes from your appreciative guests.
4. Skip the need for touch ups by providing your guests with luxurious Blotting Papers from NYX ($3.59 for 50). They'll feel photo ready and fabulous from the preparty to the morning-after brunch.
5. Of course, the point of the weekend is seeing your smiling faces, so satisfy your guests' desire for a glimpse by leaving a personalized Wildflower Stationery photo card ($2.19). Order extra to use as the starter set for your own post-wedding stationery collection.