I need to fill you in on my current holy grail skincare obsession. I know, I'm way behind on trying this raved about cleanser, but it definitely didn't disappoint. Yes, it's true. Glossier's Milky Jelly Cleanser is everything I've been looking for in a cleanser and more. I'm here to fill you in on everything I love about it.
So one thing you need to know about me is that I am not a huge fan of sticking to a skincare regiment. I need to be really excited about a product to stick to a schedule and use it daily. Luckily, Milky Jelly Cleanser does just that. For starters, the cleanser is a two-in-one miracle product because it doubles as a makeup remover. It's safe to rub over your eyes and works so well to take off stubborn mascara and rinses foundation right off. This has truly been a lifesaver for me because it eliminated the need for me to use makeup removing wipes, saving me so much extra money. Plus, it's convenient because I can get my makeup off and cleanse my face all in one easy step. And who wouldn't want to save some extra time… come on I know I'm not the only lazy one here!
Also, normally with a lot of cleansers I don't notice that it is making much of a difference on my skin… so what's the point? The jelly-like consistency of this cleanser is amazing. It doesn't dry out my skin (which is super important to me) and it makes my skin look so glowy and clear. It's a noticeable difference which I've never experienced with any other cleanser. It truly surprised me in an amazing way and I'm pretty sure I'll never need another face wash again.
If you haven't tried this cleanser yet, I'm telling you you won't regret it. It's only $18 and works wonders. You need it in your life.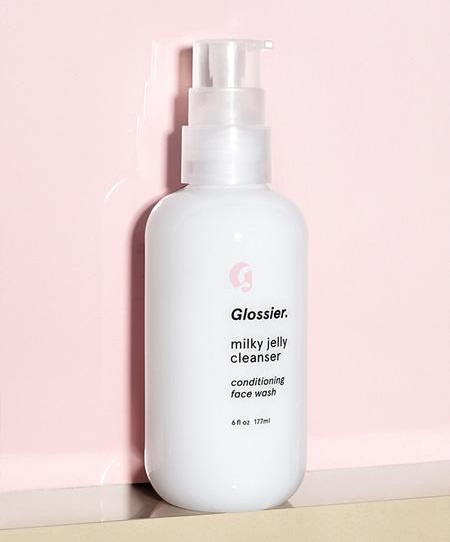 SHOP GLOSSIER'S MILKY JELLY CLEANSER NOW
Be sure to check out how I got the gorgeous, glowing skin of my dreams and make your own honey and lemon face mask to neutralize redness.
[Photo: Into The Gloss]
SheFinds receives commissions for purchases made through the links in this post.