I know I'm a little late to the game praising Glossier's Priming Moisturizer Rich ($35), but it had to be put in writing on SHEfinds because yeah, it's that good.
To be honest, I didn't know what a "rich" moisturizer was until this product launch (remember I'm the girl who isn't obsessed with makeup). However, by January of this year, my skin reached peak dryness and something had to be done. I think after living in New York City for over three years, my face just couldn't take it anymore and started rebelling. My go-to moisturizer that I use year-round just wasn't cutting it and after reading the glowing reviews of Priming Moisturizer Rich, I figured it was worth trying.
I had no idea my skin could even feel this soft–and this is coming from someone who never really had skin problems until recently. After dabbing about a dime-sized amount on my face (which is more than enough, trust me), this thick, heavy (but not sticky!) cream literally melted into my face and left me with a clean glow I thought only existed on Instagram. The next morning, I applied my usual makeup (CC cream, concealer, mascara) without any problems. My winter dryness is definitely gone and my face even has a brightness to it that didn't exist before. I do think this cream might be too heavy in the warmer months, but I will most definitely use mine up before then.
The fact that it was this easy to get soft, hydrated skin with just one product, applied once a day, still blows my mind! And if you're thinking $35 is steep for a face moisturizer, Google "rich moisturizer" and you'll see this one is on the cheap side.
One last thing! Priming Moisturizer Rich is paraben-, mineral oil-, and artificial fragrance-free, yet it has a slight lavender scent. It's not perfume-y at all and actually makes me feel like I'm using a luxurious spa product, which I basically am just minus the price tag!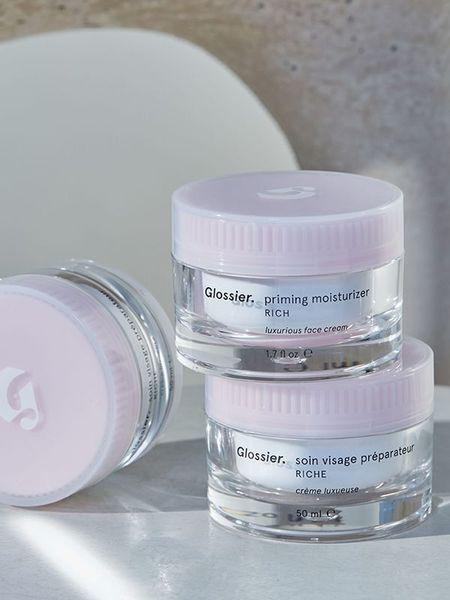 Priming Moisturizer Rich ($35)
For more beauty reviews, check out: Ouidad's curl quencher conditioner and Essie's spring collection.
[Photo: Glossier]