Vibrant fruit prints at Stella McCartney and Prada left us thinking about kitschy yet wearable options we can all take a bite out of.  Here are our picks that take you from full-on Chiquita Banana to more demure, abstract prints that subtly whisper "pineapple upside-down cake."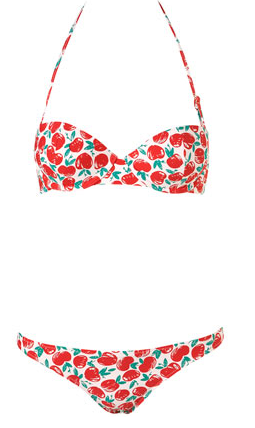 Give the fruit trend a try the right way with this retro-sweet Cream Apple Print Padded Bikini ($55) from TopShop. The detachable straps gives you versatility, but we love the over the shoulder tie for a 50s-type vibe.
This linen and silk blend sweetheart neckline Pineapple-Print Top ($245) from kate spade new york is charming and breezy – pair it with white denim for a Spring-ready look. The abstract-type print and empire waist keeps it modern.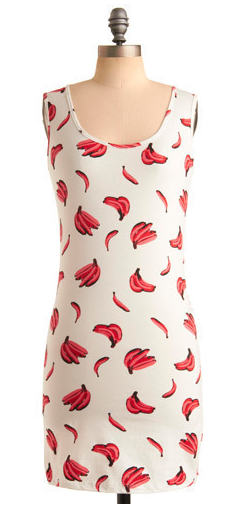 ModCloth's Blushing Bananas Dress ($69.99) is an homage to pop art, its simple cut and graphic print keeps it stylish and tongue-in-cheek cool.
Only willing to experiment from the ankle, down? BP. Bowytye Sandal in Cherry Print ($49.95) features a braided rope covered wedge, adjustable ankle strap and a pleated, bow-decked front.
Try the trend without the fuss (or interesting looks) with this two-toned Grey Pineapple-Print Cropped Shirt ($50) from TopShop. This button-down top ties at the waist for a carefree, casual look.
Check out our floral print guide, swimwear top picks and more quirky wedges to get you in style for Spring.