Today's affirmation: You are cool enough for leather pants. You are! Seriously. Say it 10 times with conviction, and then come with me on a journey to see the best leather pants of the season. Let's start with these ah-mazing J Brand Nicola Leather Moto Pants ($1,096), as seen on style blogger Sea of Shoes (above). They are to-die-for, bananas, everything – yada yada yada. They are also $1,000 and about to sell out forever on Shopbop:
There is only 1 size left of these J Brand Nicola Leather Moto Pants ($1,096). Hurry!
So there's that. Next stop: these ah-mazing knit and leather Rebecca Minkoff paneled pants, that are way cheaper and a lot more forgiving since the butt part is stretch nylon. Aka, you don't have to start a 12-day juice cleanse to fit in them:
Rebecca Minkoff's 'Telescope' Knit & Leather Pants ($398) are still available in most sizes.
Don't you love those?! And lastly, for those of you not willing to spend more than $50 on the trend (cheapskates!!!!!), ASOS makes a pair that is $42 and available in every size. #WIN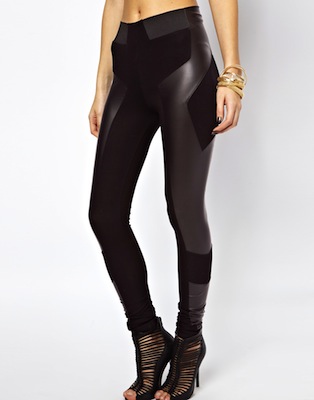 And for you cheapies: ASOS' Leggings in High Waist with Leather Look Panel Detail ($42.19)