A short time ago, Ann Taylor…not so cool. But recently, their stock has gone up (seriously – ANN is trading at 90% above July's prices).
I recently went in looking for these pants (sold out), but so many other pieces caught my eye, I was flitting around and staring at stuff like an intern at Fashion Week. Banana Republic has some serious competition.
Is anyone else forever in search of the perfect affordable, beltable, tuckable silk shell? I think this ($75) might be it.
In my apparent quest to own the same dress in 62 colors, I'm always attracted to a well-cut sheath. This houndstooth dress ($160) has a rich fall pattern and well-placed pleats.
The Crystal Bib Necklace ($55) strikes that right note of cool-but-obviously-costume bling – not pretending to be real diamonds, not Lady Gaga crazy.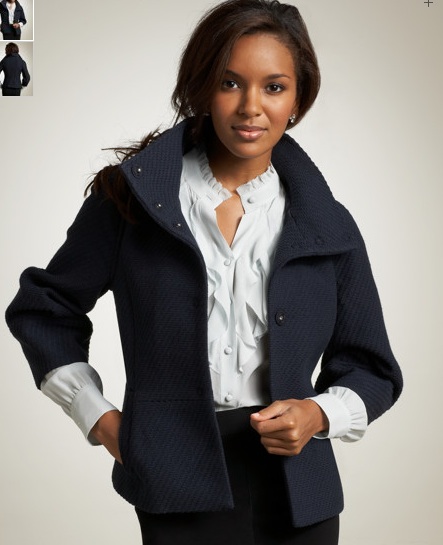 This textured wool jacket ($136.50) would work well with a tank or tee now, or a slim-sleeved sweater and scarf in the winter.
This is the ideal not-too-boring work skirt ($110) – you can make it look edgier with the right accessories, or buy the matching jacket if you work at a bank.
Browse some more of our fall favorites: leather jackets, foldover boots, blazers and more.