Shoes are a pain to store in a closet…let alone sandals. Sandals are flat (for the most part) so obviously they don't take up a lot of room, yet they do because you can't really store things on top of them since they need to be readily accessible. Many companies sell an over-the-door shoe holder or rack systems to install on your closet walls, but those contraptions can add up over time. There's a super simple DIY hack to store sandals and all it takes is a wire hanger.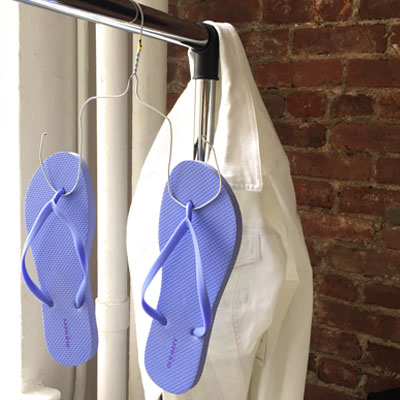 Here's how to do it:
Step 1: Take a flimsy wire hanger (that's easily bendable) and cut off the bottom part with a pair of pliers.
Step 2 (optional): You can choose to roll up the edges to create a small loop so the jagged part is out of the way.
Step 3: Using your hands and/or pliers bend both sides of the hanger to resemble the shape pictured above, like a mirrored letter J.
Step 4 (optional): You can decorate the hanger to make them look a little more fancy or leave them bare! It's totally up to you.
And now you're set! No more spending money on expensive shoe holders and racks.
Don't miss ankle strap sandals that are so in right now and Saks Off 5th is having up to 70% off!
[Photo: Cupcakes and Cashmere]