I've ruined more shoes than I care to count all for one simple reason: I hate rain boots. Yes, I have a pair of tall rubber Hunters, but I basically never wear them because in addition to being one of least comfortable pair of shoes I own, they're also freakin hot. On a day like today, I'd rather let me feet get drenched than put them in tall boots in 90 degree weather.
I must not be alone, though, because Hunter just stepped up their weatherproof footwear game in a major way. How, you ask? Rain sneakers!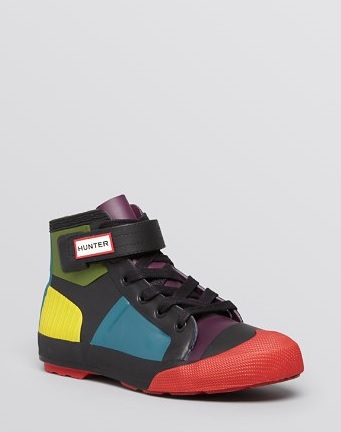 Hunter Lace Up High Top Rain Sneakers ($295)
Given the colors, they are oddly reminiscent of LEGOs or a Rubix cube, but no matter. They're leaps and bounds better than traditional rain boots and they'll keep your feet dry just the same.
What do you think? Would you wear them? I'd totally rock this colorful pair, but I'm secretly hoping Hunter does them in solids, too.
UPDATE: The good news? Turns out Hunter does indeed make their rubber rain sneakers in solid colors. The bad? They're low tops and kinda not as cool as the high tops. Still, a totally legit option if you really hate rain boots.
Hunter Original Lo-Top Sneakers ($125)
Don't miss Superga's new slip-ons and Mindy Kaling's Mara Hoffman maxi dress.