Not only is Reese Witherspoon making waves in the film industry by producing the movie version of Gone Girl, and starring in more than one new film this year–Wild, The Good Lie, Inherent Vice, and Don't Mess With Texas–she's also covering the October issue of Vogue.
In her Vogue feature, on newsstands now, Witherspoon discusses her upcoming roles, including Wild, her "raw" sex scene for the film, and Sofia Vergara's nickname for her–"My Little Pony" (Reese is 5'2″). In the acompanying photos shot by Mikael Jansson and styled by Tonne Goodman, Witherpoon shows off her "country glam" look, wearing couture gowns on what appears to be the streets of Nashville, TN.
Beyond the content of the story, there is online chatter about the heavy use of Photoshop editing on her cover. While Reese is a beautiful woman and from her countless paparazzi photos there is no arguing that, she doesn't quite look like herself on the October cover. There is something about her appearance that just doesn't seem right. If you take a closer look, it appears as though her rib cage has been removed; on the right side of the image behind her arm it looks like something is missing. Many people, including the editors of this site, have embraced Photoshopping as a way to clean up and enhance photos for Instagram and other social media, but magazines seem to be at the forefront of taking the practice too far. What do you think?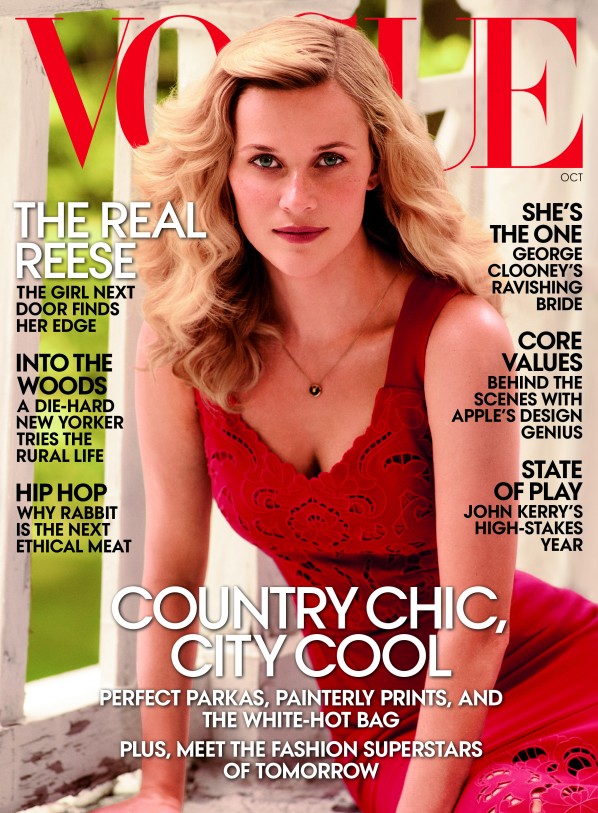 To read Reese Witherspoon's cover story, head over to vogue.com or grab a copy on newsstands now.
And don't forget to check out: fall sales, Gwen Stefani and Jessica Simpson.
[Photo: Mario Testino/Vogue]