When I first saw this pic of Hayden Panettiere, I instantly wanted that striped sweater she's wearing. The colors are amazing, the length is perfect and it's the perfect weight for in between seasons like right now. After some digging, I found it and it turns out it's by Isabel Marant.
Now yes, you probably know Isabel Marant for her now iconic wedge sneakers (and soon, her wedge boots), but she also makes pretty amazing clothes. Just as her wedge sneakers were designed to be wearable while still making women feel beautiful, her clothes are designed with the same intent. Hence, Hayden's sweater is so perfect. Score the exact same one, along with Hayden's Adriano Goldschmied jeans below.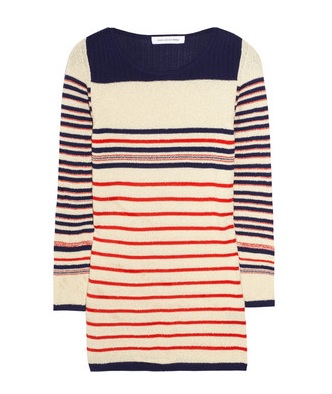 ÉTOILE ISABEL MARANT Malo striped cotton-blend sweater ($310)
Adriano Goldschmied The Legging Ankle in Sulfur Cornflower Blue ($168)
For more celeb looks we love, check out Zoe Saldana's Target sweater, Rihanna's River Island collection and Jessica Alba's varsity jacket.