Finding a lipstick that will stay on all day (or all night) can be really tricky. There are tons of products out there that claim they "last up to 12 hours" or are perfect for an all-nighter, but chances are, you're being lied to. I used to think lipstick was reserved for middle-aged women and my grandmother, but it has become really popular. And even though we all know that it is one of those things that guys hate, we wear it to the club anyways, because let's be honest…girls dress up for other girls, not for guys. So if you don't want to be the girl who has the jacked up lipstick, I suggest you check out Dolce & Gabbana The Lipstick Classic Cream Lipstick ($33).
D&G's lipstick is exactly what you need for nights out. It goes on smoothly, doesn't make your lips crusty, and it stays on for hours so you won't have to run to the bathroom every five minutes to put your lips back on. So before you head out for a night of boozin' with your gal pals, Pat McGrath, Global Creative Advisor for the brand suggests that you "apply lip color then blot with a tissue after application to help set the color. Then, reapply lipstick. The result is a significantly more intense color effect. It's a great method to use when you want to draw attention to the lips." And if you're going to be talking to any guys at the club, you're going to want to draw that attention. So, grab a tube of this miracle lip color now! It comes in 14 different colors at Sephora, and they even have a vampy shade that looks like Lorde's. Try it out and let us know what you think in the comments below.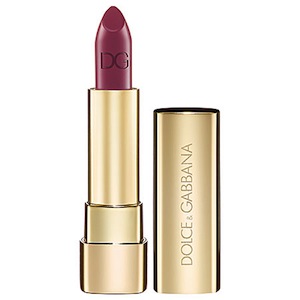 Dolce & Gabbana The Lipstick Classic Cream Lipstick ($33)
SHOP DOLCE & GABBANA LIPSTICK NOW!

Shop for more beauty products: Net-A-Porter's beauty box, hair detanglers, and how to get Kim Kardashian's perfect eyebrows.