Everyone knows that cocktails can contain a lot of sugar, which leads to more calories and bad hangovers. I'm a huge fan of Bai drinks because they taste great and are good for you, only being five calories and naturally sweetened. When I was sent these fall cocktail recipes made with Bai drinks, I immediately had to share because they are that good. Ditch your usual sugary cocktails for these fall-inspired drinks that will get through the whole season.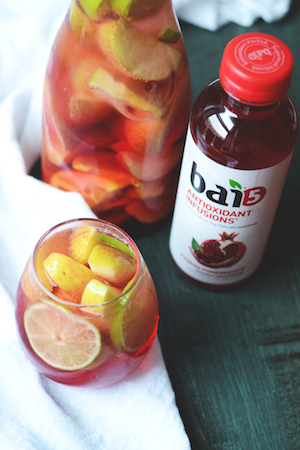 Fall Pomegranate Sangria 
*Serves 8
Ingredients: 

1 bottle of Dry Red Wine

1 bottle of Ipanema Pomegranate Bai

4 oz of Orange Seltzer

2 chopped apples

1 sliced orange

1 sliced lime
Directions: 

Slice fruit and place into a large pitcher.

Add wine, Ipanema Pomegranate Bai, and orange seltzer.

Let sit in the fridge for at least 3 hours to allow the flavors to mix together.

Serve in stemless wine glasses.
Sparkling Hard Pear Cider
*Serves 2
Ingredients: 

8 oz of Congo Pear Bai

8 oz of hard cider

2 oz of Seltzer Water

1 Bartlett Pear
Directions:

Place ice in two rocks glasses.

Slice pear thinly and divide into both glasses.

Divide Congo Pear Bai, Hard Cider and Seltzer into glasses.
Don't miss four super easy Just Salad recipes you can make at home and enter for your chance to win a dream vacation!
[Photos: Georgie Morley]