I won't get into all the details of Taylor Swift's annual 4th of July party because 1) You've probably read all about it at this point and 2) My invite got lost in the mail. So that's what you get, Swift.
Anyways, the hostess herself and attendee Gigi Hadid both wore the Anne Marie Swimsuit ($168) by Solid & Striped–the two actually had a twinning moment.
"Bad Blood" video participant Hailee Steinfeld also got the memo (gee, wonder how THAT happened??) and wore the same red-, white- and blue-striped one-piece.
Basically, this is how you get in with the squad if that's still your life #goals. If not, the one-piece is cute regardless and there's still Labor Day so…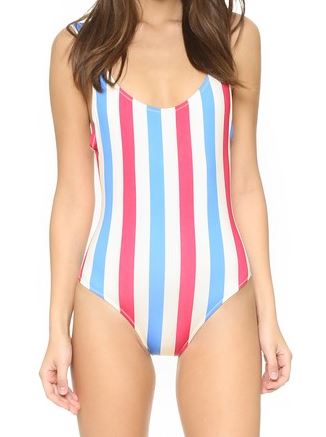 Anne Marie Swimsuit ($168)
Don't forget to check out: how to step up your Instagram game and find out what are the least-used emojis
[Photos: Jackson Lee/Splash News]