Do you ever wake up with a stiff neck? It's one of the worst feelings, and especially not something you want to encounter after a peaceful night of sleep. After too many mornings of waking up with a stiff neck, I decided I had to buy myself a proper pillow. I wasn't thrilled on spending a decent amount of money on a pillow, but I figured it was worth it in the end. After all, a proper night's sleep is extremely important for overall health. If you suffer from a stiff neck, you need to buy the Sleep Innovations Contour Memory Foam Pillow. Trust me, it's worth every penny.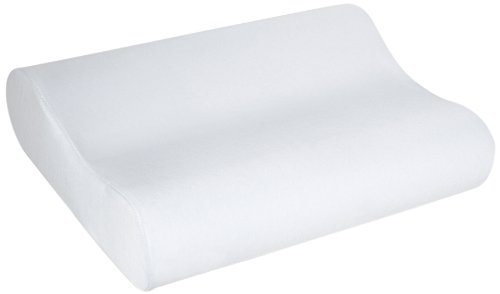 Sleep Innovations Contour Memory Foam Pillow in Standard Size ($29.98, down from $59.99)
What's so great about this pillow? By aligning your neck, it relieves neck and shoulder pain because your muscles can fully relax. It also properly aligns your spine so you won't wake up with back pain, either. The SureTemp Memory Foam retains its shape throughout the entire night so you won't have to keep readjusting your head. Plus, this Sleep Innovations pillow is made in the U.S.A. and is a great quality product.
Don't miss the pros and cons to the 3 most popular sleeping positions and get the best sleep of your life with these 6 tips!
[Photo: Shutterstock]