We all know and love IT Cosmetics for their amazing skincare and makeup products. I mean they have so many game-changer products like their Bye Bye Undereye Concealer and Confidence in a Cream. As if they haven't already blessed us enough, they just released a new product that I had to put to the test.
IT Cosmetics just launched their new Bye Bye Makeup 3-in-1 Hydrating, Anti-Aging, Makeup-Removing Micellar Wipes. Yup, all their makeup-removing goodness now comes in a wipe. And just like all of their other products, skincare is infused within. The makeup wipes actually have all the benefits of their Bye Bye Makeup Cleansing Balm in them!
So the main question you're probably wondering is "do they actually work?" Well, I tried them for the first time last night after I got home from work and I am hooked! Not only did they take my makeup (including mascara, foundation and bronzer) off so easily, but they also left my skin feeling hydrated and soft. I love the fact that you can use them on your eye and face makeup without having to worry about irritating your skin.
The best part about these wipes is that they combine 3 steps together to make your routine that much quicker. They act as a cleanser, makeup remover and anti-aging serum all in one. It doesn't get much better than that!
Let us know in the comments if you have tried these and what you think about them!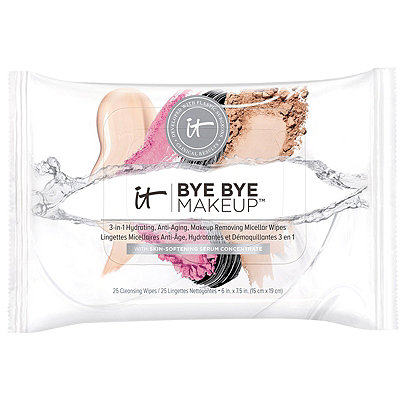 SHOP IT COSMETIC'S MAKEUP WIPES NOW
Be sure to check out these cool eyeshadow hacks.
SheFinds receives commissions for purchases made through the links in this post.